We decided to have dinner here about a week ago, when I craved for some rice paper rolls but didn't want to travel to Footscray. A few work colleagues had recommended this place, so we decided to give it a go.
The restaurant does have street frontage on Triholm Avenue, however you can ONLY enter via their back entrance. For some (possibly security) reason, they leave their front entrance door locked. There is parking behind the restaurant, so it was easier to access via the back anyway.
Remember I said we went to dinner because I craved rice paper rolls?
Well, there weren't any on the menu!
Ack! I can see someone had posted photos of rice paper rolls on Urbanspoon in January 2013. Where were my rice paper rolls in July?! :(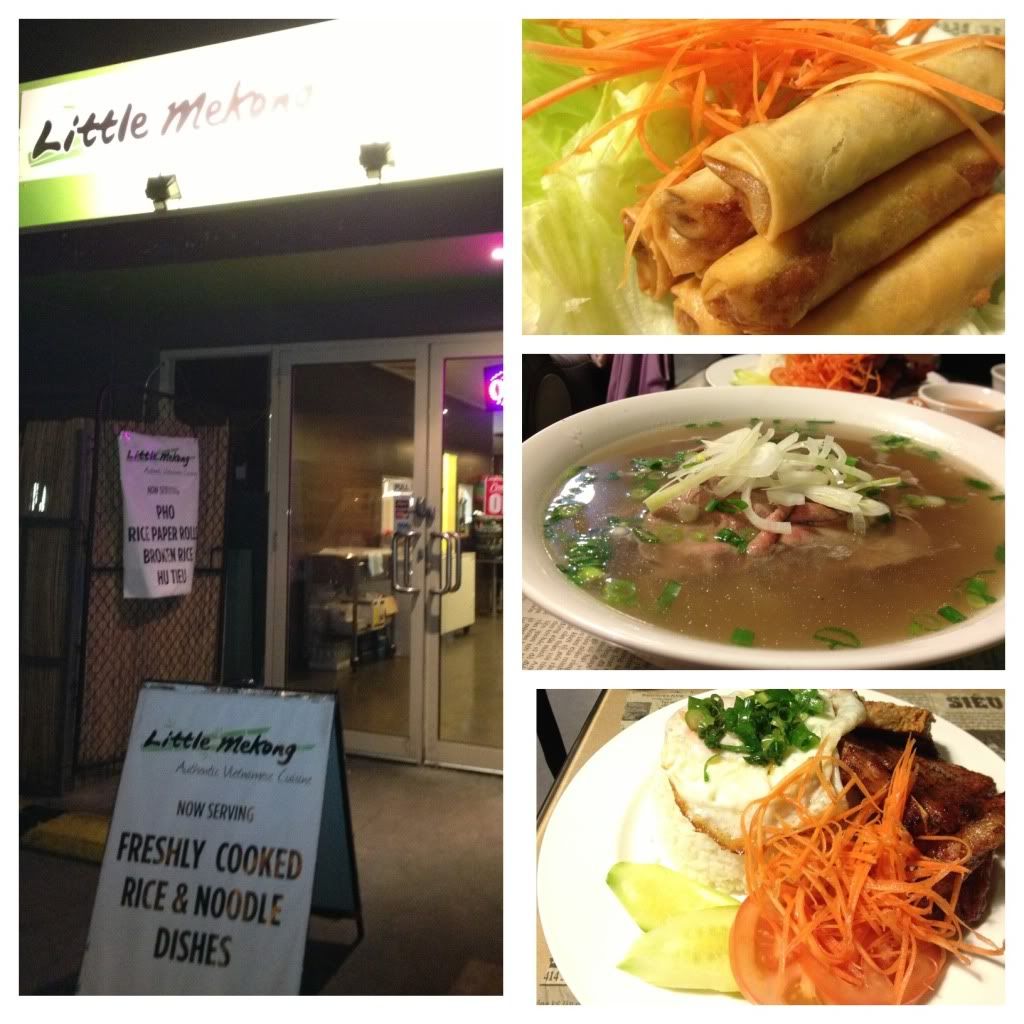 We settled on some Cha Gio (Vietnamese spring rolls, $6 for 6) instead. They were freshly fried, but I thought the meat filling was just too lean. Wasn't bad tasting, but the filling wasn't very flavoursome - just tasted like lean minced pork marinated in fish sauce and white pepper.
Whenever we want to give a Vietnamese restaurant a try, we normally order the same dishes as a benchmark - the broken rice (Com Tam Bi Suon Cha Trung - Steamed broken rice w/ marinated pork chop, homemade meat loaf, shredded pork, fried egg with a side of pickled vegetables - $10) and beef pho (Vietnamese beef noodle soup - $10).
The rice itself tasted like plain steamed jasmine rice, fluffy and soft, instead of the slightly firmer grains that we normally get in Footscray or Richmond. Pork chop was a tad dry, but overall, it was okay to eat.
Pho was again edible, but not-quite-comparable to the likes of my beloved Footscray.
Service was great - staff was certainly friendly and courteous - lovely people.
Overall, we didn't leave disappointed, but chances are that we would continue to trek up to Footscray whenever we crave for some Vietnamese food. I probably wouldn't oppose to returning, if someone suggests dining here - I'd probably be keen to try the shared dishes to see how things go.
Most importantly, nothing seemed as if it had been sitting there for ages - everything did seem freshly cooked, for which I am always thankful!