Had the opportunity to come by on their opening day on Labour Day.
The Husband had to stay home and study, so I ended up with K, A and their mum so we had quite a range of dishes to sample. We got a table right at the back wall of the place, which has expanded quite a bit since it was previously Old Town Mamak.
Just to keep in mind - We visited on the first day which I think doesn't give it a complete and fair assessment of the food and service. Had a couple of issues with the service, with the staff coming back with two of the dishes that had already arrived earlier.
Note: the names of the dishes are NOT as per the menu - sorry, I didn't make any attempts to remember the actual names! :(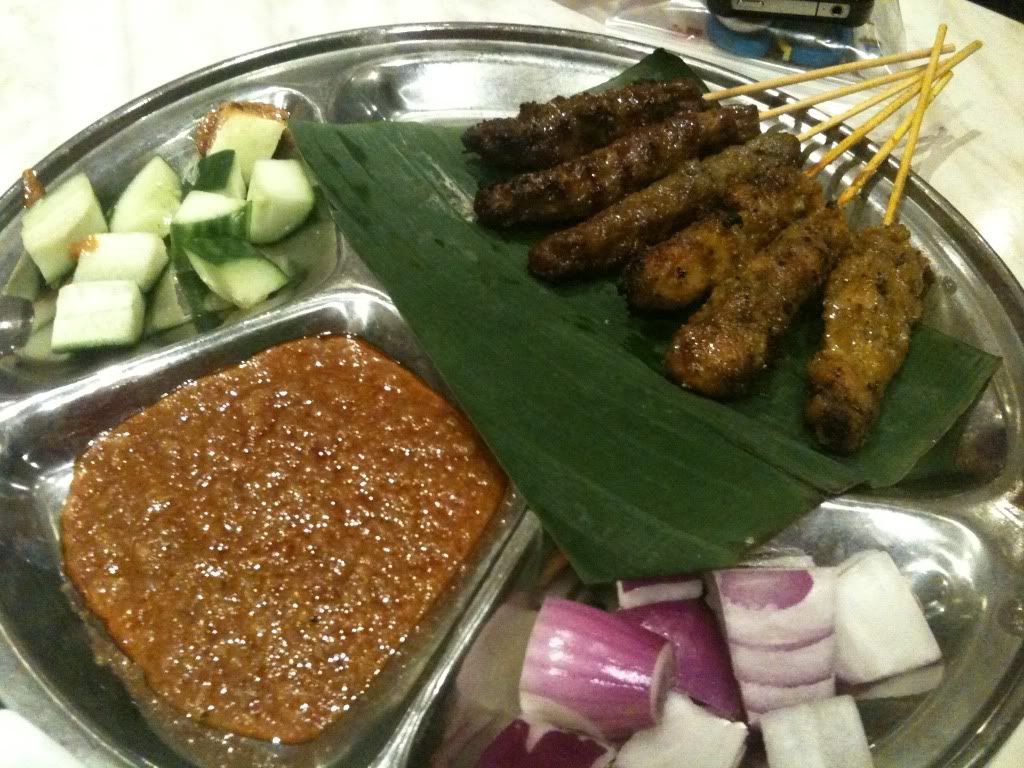 Mixed (Beef and Chicken) Satay Platter
Yum - the satays were really good; it was authentic that it had a good amount of FAT on the meat (as compared to some "high-class" satays where it's really just a chunk of meat on a skewer), but it was substantial enough. Flavours were good, and the meat was tender. I know where to go now when I'm a-cravin' satays.
Vegetarian briyani rice with vegetarian mutton curry (or something like that)
They have a pretty substantial vegetarian menu, which I think is pretty good, what with vegetarianism in Australia on the rise. Considering it was their first day, it was forgiveable that the dish was mistakenly served with anchovies (no my dear - anchovy is a not a vegetable). We finally had a chance to dig in when the issue was rectified.
Taste-wise I think is great. Aussies might think 'fake' (vegetarian) mutton might be a bit odd; but I suppose growing up being exposed to the 1001 ways to work with soy and gluten, it didn't seem strange to me at all. I don't know what the "mutton" is made of in this case, so best check with them if you have any dietary requirements.
There was a slight issue with my friends' mum ordering this dish. As part of her religious vegetarian diet, she is also to avoid both garlic and onion. Unfortunately, I think it's highly unlikely to find a meal in Australia that is vegetarian but does not contain garlic and/or onion. Do not expect any different from this dish.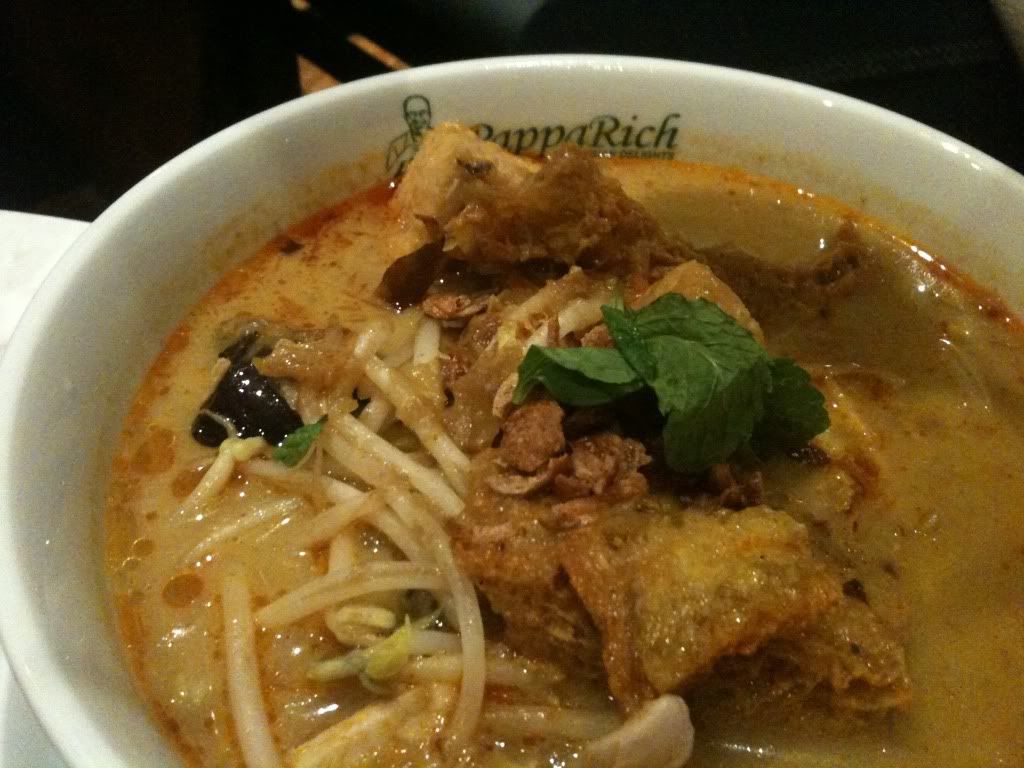 Curry Laksa
I had a taste of A's curry laksa, and realised how much I will miss Old Town Kopitiam's version. I felt this was slightly lacking in flavour, but to be honest, it reminded me of the Curry Laksas from home. Now, I never quite liked curry laksa until I moved to Melbourne, so I suspect my taste for curry laksa is probably Australian-influenced.
Now I really liked this dish that K had ordered - it was pretty much a grilled chicken chop smothered with curry sauce served with chicken rice -
drool
. Very authentic (right down to the frozen mixed veggies I'm afraid), and I'd be happy to order this next time.
Hainanese Chicken noodle soup
What was odd about the soup, was that it really tasted like a prawn-based soup instead of a chicken-based broth. But...
it was SO GOOOOOOD! I'm speaking as someone who loves seafood (and meat, and ... heck, I don't discriminate) so prawn soup definitely doesn't put me off. So flavourful, it reminded me of "prawn mee" without the chilli. I slurped and slurped and lapped it all up. Perfect meal when you are feeling cold and just want something with clear soup. YUMM!!!!
Overall, they definitely have had a good start considering it was only their first day, yet they had enough dishes to tantalise my tastebuds. I had a look around and noticed quite a few multi-coloured drinks that I might give a try the next time. I certainly would be keen to come back and give other dishes a try (or I might just order my chicken noodle soup again :D )